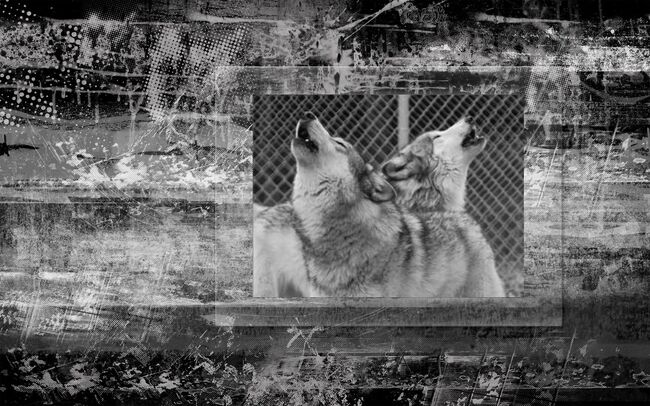 | | | |
| --- | --- | --- |
| " | People always ask how I stay so strong when he is gone for so long. It is always hard to answer that question... It's not like I want to be strong, I HAVE to be strong. For him. For us. But for most of all, for me. | " |
Prologue
Edit
I hadn't really realized how hard life can really be. It can't be easy trying to overcome yourself. It's hard enough to be born without someone to really care for you. To really love you. If I had known that, I would've been dead the day I was born. I hadn't realized that until now. And now, now may be to late to turn things around. It had already been bad enough to have her disappear from my presence as well as him. Fortunately, I had left my father, away from his "posse," away from anything marked by him. My life was hard enough without her and it was really hard to watch my life slip out of my own paws. I mean, I know people try hard and really have a good life, and I've had those times. Had. Now, everything had changed. A walk through the forest can really change your life. And surely, it had changed mine.
Chapter One
Edit
So there I was, in my father, Clyde's presence, followed by his small "posse," Baron and Lucca. They bared their teeth staring at my younger brother, Jakob and myself. I hadn't watched him do his dirty deed to my mother, but, I could throughly imagine it. Blood. Blood was everywhere as a four moon old wolf, crawl behind plants, turning away in fear as her own father tore across her soft flesh, Baron and Lucca feasting on the limp meat. My lungs filled with large breaths, gasping in the silent air, dead space between us. Jakob, only a couple of moons younger than myself had always wanted to be like my father, Alpha of the Pack of Stark Canis. He would practice on small prey, cutting himself, nearly tiring out after trying, he was desprate. Jakob began to wail, filling sound in the silent space, as the Beta, Baron snarled,
"Oy Clyde, I think the girl would be fun, more meat, more pleasure." His strong Scottish accent whisped between the cries of fear of Jakob as he leaned into me. The three of them surrounded us, snarling, grumbling, growling, checking into our flaws. I stared at them, fearless, but they can sense my opposite...easily.
"The the lil' guy's wailing is pounding my ear-drums!" Lucca whined, flicking his dark-colored ears. They had looked at us for awhile, Clyde remaining silent but I already knew what was going to happen. As he easily tried to change the subject, I could barely understand what he was saying,
"It seems like Aubrey is sure shining out here tonight, and it sure does look like it's going to be lights out for one of you!" He howled, deeply cackling as they leaned closer into us, Jakob wailing his mouth off, starting to hurt my own ear-drums. Baron and Lucca hauled me away from Jakob, throwing me onto the ground as I screamed,
"Jakob! Watch out!" But he didn't know much. My gaze turned away as a droplet of blood landed onto my granite pelt, more and more like a flowing river. Soon enough, I closed my eyes, despratly wanting it to be over. 
Chapter Two
Edit
I slowly blinked my eyes open, glaring towards three males, towering over me, teeth towards my muzzle. I finally realized what "Aubrey is sure shining tonight." It was my mother. She was Aubrey. Aubrey was my mother, her life, ending in such a short time and she will be remembered by the moon. I didn't dare move, their shadows, casting over me with light beaming all over the place but me. I could see the blood and bones that lined across their teeth and dripping down their necks. 
"I was waiting for this to happen!" My father spat, teeth clenched and grinding. "I knew today was the perfect day for you life to almost come to end! Just a couple moons ago you were safe but no one is safe now!" He smirked mischeviously, snapping his neck back. Almost. My life will almost end. But it won't. He thrashed his tail and the fight began. Baron and Lucca pinned me down flat onto my back as I gazed towards the remaining pieces of Jakob. A thin glaze shadowed his eyes as he layed there with a small smile spread across his face. It feels like he wanted to be dead, just as I want to be right now. I was being shredded by the Delta, Lucca and I felt nearly dead but I wasn't. I was in too much pain and I had a bad feeling that it was going to get way worse for me.
"Baron, Lucca, step away." My father's now soothing voice overcame the still forest. "I can take care of the runt, now." He easily grabbed my sixteen moon old, body, feeling ripped into pieces as he flung me in what felt like far way from him and his "posse." I winced, my fragile frame shaking in the cold snow, away from the roaring fire and warmth my father, Baron and Lucca had. I clenched my teeth, gaining as much warmth as I could as my thoughts were disrupted by an image of my mother, speaking to me. And I remembered. Remembered the one phrase that my mother had tried to get through my soul; Hope. Never lose hope. And I haven't....yet.
Chapter Three
Edit
Nearly unable to breathe, I managed to lift myself to my paws, brushing the powder-like snow crystals off of my tangled charcoal grey pelt. All I had with me was a small pawful off blueberries which were hard to find in this season but I had enjoyed every since I was a moon. I popped one into my mouth as the sun, peeked behind the edge of the tall cliffs of the Rising Sun almost as if it was afraid as Clyde as I was. I couldn't think at all, dizzy and dehydrated so I ran, ran into the middle of nowhere. Ran the way no such figure would find, alone without a soul, without my brother, without my father. Without my mother. As I dashed and staggered in turns, a small portion of myself knew where I was heading to. I was going to tire myself and die, soon to be rising, joining the Great Star Pack. The Great Star Dogs will greet me with love, beauty and respect. I would be respected, for once. I was finally going to be happy. 
My frantic run soon slowed to a slight trot as I panted in the silence of the vast forest. The evergreens varied in size but each one was covered in a layer of frothy white. I could feel the incident control over my thoughts; Jakob! Watch out! He was gone. My brother, Jakob, gone. It was just the feeling, the feeling of death, the feeling of grief. It felt like my mother's and Jakob's last breath collided with every breath of my own. The cold had overwhelmed me as a cold, frozen tear settled beneath my left eye, feeling like it would be there forever. I had soon realized I was extrememly dehydrated and I bent down to a stream that I had padded up to, slurping up the cool, refreshing liquid like I was a cat who craved milk. I layed my face onto a thin slab of ice to cool down and so I had, wondering why the forest was unusually quiet - no sounds of sparrows chirping or squirrels rustling in the leaves. I had picked up my head, only to turn, ear flicking at a large crunch of the crusty leaves.
Chapter Four
Edit
"Startled you, didn't I?" scoffed a low, smooth voice. I tilted my head, watching the shape of a Timber Wolf approaching between the light of the sun and the shadows of the trees. The male looked rather bulky with his pelt drooping to his sides. He was about half a size larger than I was a suprizingly quite tall, as he steeped towards me, I realized her was about nineteen moons or so, just a couple moons older than myself. He had a sharp jawline and wicked written all over his jagged smile and his tone, made me sick like a mutt. 
"Why so confident, Tickboy?" I blurted out, scrunching my eyes towards him. The last thing I wanted from anyone was trouble, and I do hope that I wouldn't get it now. He cocked an eyebrow at me, pathetic as can be. 
"You don't know? About The War? With the Pack of Mutig Canis against the Pack of Stark Canis? Idiotic, aren't you? He laughed, striking a small rodent with his massive paw, bending down to easily gulp it down. He saw my worried look but he acted like he didn't notice. He had crunched and swallowed the remains of the rodent and smiled with small amounts of flesh between his teeth.
"Pathetic," I snorted, rolling my bright blue eyes, continuing to act tougher than I really was. I smeared the water that was dripping off the edge of my mouth. I had washed the deep cut that my father had rewarded me with and as I did so, he just stared at me. Without a word, like some kind of spirit. He just glared at me, fearless but I had the feeling that he was quite the oppisite. 
"How'd you cut yourself, Little Lady?" He purred, still watching me. 
"Who the hell do you think you are?" I snarled, enough of his nonsense as I wanted to rip his throat out of his neck. I remained seated over the stream but my upper lip was shaking all over the place.
"Quite brave...aren't you?" He teased, Canadian accent churning my stomach, I wanted to throw up. "Got a name, eh?" I knew what he was trying to do and still, I couldn't bare with him. 
"If I were you, I would keep your mouth shut, Brick-head," I growled, standing to my feet, shaking off the bits of water that clung to my fur. I shifted my weight from left to right, watching his next move. He just gazed at me, sly as a fox.
Chapter Five
Edit
"I'll start," the tall male declared, brushing tufts of fur from his eyes. "I'm Scott, Head Millitant of the Pack of Mutig Canis and I am proud of it, if I say so, myself." He held out his tail, scarred tip in the empty space. I knew taking it was the last thing I wanted to do. Throughout the silence, his tail stay still, without a motion, just, there. For that reason, as wicked as his jagged smile, I reached out for his tail with my own. I didn't do this with ease and I was quite hesitant. 
"Caitlyn,"  I growled, quickly breaking eye contact. I just couldn't look at him for too long, his glare was too intense. Not too intense, but intiminating. He had just eaten the small rodent that had done no harm to him but he easily does harm to it. I got a glimpse of its dead self, glaze, shadowing its eyes like Jakob's. Nearly crying, I sniffled, remembering how full of life the rodent had, just as Jakob's life was. All of the vibrant objects the rodent see, but now, now it could see nothing, feel nothing, do nothing, because of Scott. He had grinned as if he had won a game, all I did was roll my eyes, pawing at the burning teardrops on my fur. I huffed, knowing how long my day would be. 
Calmly, he had nudged me away from where I stood, him following me as we traveled through the dense forest. He had easily nudged me as his strength was abnormally greater than mine. He knew exactly where he was going, but I didn't. He could kill me, he could torture me. Like my father had done. 
Chapter Six
Edit
"Where are you taking me?" I shouted, trying to break away from his path. He had mananged to keep me in his direction, nudging me across the stone path. We had came around tall cedar trees that hung over our heads, covered in pale white with a small lake and watercress, ruling the area. He narrowed his eyes, looking between the large plants, searching for something, and as he did so, he spoke faintly, 
"Hush up, the soliders may notice you. Just relax and stay behind the Silver Maple." He release me, and slowly, I was hidden with the fallen leaves on the prodigious Sliver Maple. I stayed covered without a movement, without a noise. Remaining unnnoticed, I slowly closed my eyes watchful of the sounds wrapping around me, replaying the first part of my daring journey where my father, Clyde, booted me out of the camp, Jakob, killed by Baron and Lucca, right in front of my own eyes, tearing up, kicked, painful, tortured.
Without realizing it, words whisped out of my mouth, trickling off the tip of my tongue but I said nothing, I thought everything; I tried to be someone else...... But nothing seemed to change.... I had been me. me. And only me. And olnly I could display myself to the world, being who I want to be, even with the slightest change, all I could be is me. i had remained secretive, unknown that my thoughts felt like they traveled everywhere but my mind and I dozed off to a peaceful slumber.
Chapter Seven
Edit
"Wake up Sleepy-head," taunted a familiar voice, Scott of cource, tapping his paw onto the crusty gravel, towering over me as I alay on my side. "Time to go hunting!" I opened my eyes, still half drowsy and I streched into a yawn. He just stared at me, once again, still tapping his paw as I felt reluctant at the moment.
"Hunting?" I asked, barely making an image of Scott, tapping away, looking behind him and back to me, repeating the process. He turned, his tail swaying looking into the horizon, hearing me slowly get up, grunting as he thought I was moving like a snail. 
Time to leave..... Right about...... Now!" He barked, as if we were being hurried and he dashed off, trees ahead of me. I chased after him, farther and farther away from the Silver Maple that where I had basically lived for a night. His run had slowed and I barely caught up to him as we walked across the vast forest.
"So? What happened?" I had asked worriedly.
"Don't worry about it, it was nothing--" he started as i immediately cut him off. He bit his tongue, obviously not wanting the explain the truth. 
"Tell me," I commanded, not wanting to be lied to, "Why did I have to be hidden?"
He closed his eyes before biting his tongue again, "It is the Alpha," he finally huffed after a long period of silence with only out pawsteps making sound. "He'd immdiately demote you to a Omega is he relized you were in the Pack of Stark Canis."
"How- How do you know?" I stood there, astounded as he stood alongside of me, glaring at me, breaking into a slight smile.
"Sometimes... Wolves just know....."
Chapter Eight
Edit
"Why?" I questioned, dazed out of my mind. He gazed into the sky, stars scattered across the midnight blue dome, shaded with violet. I hung my mouth open to reask the question but it laid open, without a word being spoken of. I had watched Scott acting very unusual as he suddenly stopped in his tracks and pressed his hands on the sides of his head.
"I can't do this," he sighed and turned himself around, facing from where we came from.
"Do what?" He broke eye contact with me, nearly tearing up,
"The war, it may...come early." He looked towards the moon, glowing as the only light in our path. As hard as it was hearing a man cry, it was way more depressing to see it happening. I finally sighed and spoke up,
"Let's make the best of the time we have with each other, everything will be alright." His gaze locked with mine as he nodded, strongly agreeing as he broke into a small smile.
Days quickly transformed into weeks, weeks into months… All with Scott. He had to train with the pack, early, nearly every day and even invited me to some of his trainings. He had given me a couple blueberries and some flowers so I had chosen to accept his offers. The Alpha never noticed me, Scott had helped me into an unnoticeable disguise and surely, it worked. There had been a break from training so I had walked alone in the forest to practice my hunting. Forgetting about Scott, I had drawn myself across a motionless stag, pricking his ears towards the sky. Harder to catch, I crept closer with no sudden movements until I was slammed hard to the ground by dark figures. As one reached for my neck, I took the advantage and bared by teeth, jabbing it into him and watched him go limp. The male was visible but I never had seen him before as I watched him drop to the stones, as desperately, I was in frantic search for the other. Gone.
Chapter Nine
Edit
"What were you doing?!" I nearly screamed, wiping the blood off of the edge of my forearms.
"What were you doing!" Scott snarled and hissed towards me.
"I was hunting and I got ambushed. I bit one and the other, disappeared." He broke into a small chuckle,
"Ambushed, eh? Haven't heard about one of them in awhile."
"It's true," I snarled, "And if nothing is done about it, the pack has a chance of collapsing." He stared at the space behind me and faintly whispered,
"I think I found the other, duck…" I leaned over as he pressed  his paws over her, a petrifying groan from the lighter figure. As I slowly raised back to my normal position, I felt something; he had kissed me. Scott had kissed me. Right on the cheek. And you know what? It felt good.
"I-I can't do this!" I said, as I didn't know what I was talking about.
"Caitlyn, wait, I uh, I'm sorry!" He called as I was already starting to run off.
"It's just happening too fast!" I shouted back, breaking away.
Dawn came quickly the next day and I met back up with Scott. He looked at me, tears streaming down his statue-like face.
"You have to leave tomorrow, right?" I asked. He just looked at me in silence until he finally spoke,

"Yeah." I already knew what was going to happen, as I felt another tear drip down my neck.  He wiped his tears with the back of his paw, his tears slowing stopping while mine flowed like a river down my face. "Just relax and close your eyes,"  he said.  "I have to show you something." He dragged me over toward a secluded area.  I could hear water roaring off the cliffs and the rush of the wind through the trees. I had the urge to open my eyes, but I refrained, trusting him.  "You can open them," he said, backing away so I could see the view.  It was gorgeous, flowers everywhere I could see.  Beautiful waterfalls falling into the valley below.
"You say you aren't ready, but I know you are."  He leaned on a giant boulder as he talked about the war.  "Will you stay with me?"  I looked into his bright eyes and half smiled.
"I wouldn't ask for anything else."
Chapter Ten
Edit
"I am no commander but I know it's my job to keep us safe.  You seem sad, though."
"You only have one life.  It it's taken…"  I broke into sobbing, not being able to finish my sentence.
"Caitlyn," Scott said firmly, "do you love me?"
"I couldn't love anyone else."
"Then one life...this life...is all I need…"
Later that day, the pack assembled in a battle line.  As everyone bared their teeth, I felt worried as the Alpha and Beta walked in front of Scott and me.  Without a word, two delta elites grabbed me from behind, drawing me away from Scott.  The war had begun and I already had been dragged away by my own Alpha.  I knew why, he had figured out I was in the Pack of Stark Canis and therefore not allowed to fight.  One of the wolves behind me slit his teeth into my neck.  I barely managed to ajust myself, kicking him off, slamming him and breaking away.  I called for someone, using a trait instead of his name.
"BRAVE!"  I cried, breaking free from the alpha's elites, only to hear an echo from another voice.  It was Scott.  I closed my eyes, I wanted him to protect me, I was going to be okay.  I felt a tail on my shoulder, but I turned away, leaping for cover.  The last thing I heard was Scott shouting, "I promised I would get back to her!" I could see my father, chasing after my Alpha, tearing him apart.
Everything froze, frozen as the dark red and black snow that the battle had taken place on. I slowly blinked my eyes open to see bodies lying everywhere, claws and teeth covering them.  I looked down at him.  He was gone.  Like Jakob  and my mother.  Tears fell down my face as I stared at his blood-covered neck.  All I could do was gaze at him, taking in his still frame, so full of life just moments before.  I unhooked my tears placing them over his forehead.  Drowning in tears and grief, I grasped my tooth, tearing one off. I slowly rose, turning to face the stream where we had first met.  I flung the tooth, cutting it into the water.  It would be a place I could never forget.  I stared at his lifeless body.  I couldn't believe someone had changed me so much in such a short time.  I was different.  I was me.  There was one thing my mother had tried to get through to me;  Hope.  Never lose hope.  And I haven't...and I never will.